Pilot Training Resumes After Coronavirus Shutdown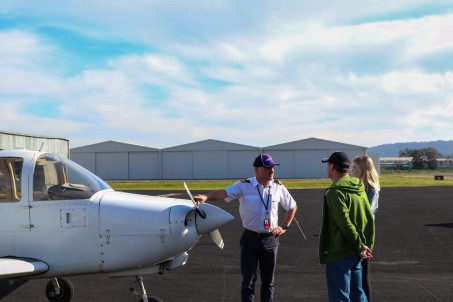 **Border Mail Article published 10th June 2020**
Smartair Albury pilot training resumes after coronavirus shutdown
Aspiring Border pilots are back up in the air after almost three months of shutdown due to the COVID-19 pandemic. And while pilot training may look a bit different at Albury-based Smartair than before, both instructors and students are excited to get back to what they love.
Instructor Richard McClelland said new precautions include longer training blocks, wearing masks and plenty of cleaning.
"Our little aircraft has quite close quarters, so we couldn't really abide by the social distancing parameters when it all started to lockdown in March, and we had to make the hard decision and let our active students know we had to cease our training for the time being," he said. "That was really difficult because people invest a lot of emotional and financial energy into flight training and it is almost a little bit of a disease itself, for want of a better phrase.
"Flying a plane is very addictive and it is a whole lot of fun so as a business it was difficult for us to make that difficult decision." Smartair put together some guidelines and welcomed students back to practical training last week.
"It was important for us for a business but also as a provider of aviation training in the Albury-Wodonga area to be COVID safe," Mr McClelland said.
"We have an allocated training time which we have pushed out to a two-hour period which allows the cleaning of our training room after each student and also wiping down all the surfaces in the little aircraft.
"We are really focused on being COVID safe."
"We are lucky that we have been able to do some chartered flights and the maintenance side has been quite busy," Mr McClelland said.
For Mr McClelland, getting back to teaching has been "really exciting and something to celebrate".
"The thing is the students get into the plane with a smile, and they get out of the plane with a smile," he said.
"These guys have just been so enthusiastic and excited about getting back up in the air. "That re-ignition of passion about aviation has just been fantastic."
Smartair, which has three arms of the business - pilot training, maintenance and chartered flights - have been able to continue operating during the pandemic.